Frozen Features – The Best Statues & Sculptures to Visit in Melbourne
Cow Up A Tree
The top of the list of sculptures to visit in Melbourne, and our personal favourite, is the Cow Up A Tree at Docklands, beside Etihad stadium. Sculpted by Australian John Kelly in 1999, it references two pieces of Australian history. The first is the unfortunately common occurrence of odd objects ending up in trees after severe flooding, and the second is the story of Sir William Dobell in World War II, who was hired to disguise airfields. He and chose to do so by making fake cows and scattering them around the airfield. This was an extremely obvious ruse, and it fooled no one. The absurdist nature of this sculpture makes it a must-see of Melbourne art.
The Public Purse
Take a seat at Bourke street to rest your feet after a long day of shopping. Find comfort atop this 1994 sculpture of a dropped purse. The artist, Simon Perry, successfully merged functionality and art with this piece in the popular shopping district. The Public Purse was commissioned to fulfil an aesthetic desire for unique seating. Well, it worked. As an added bonus, it doubles as a distinctive landmark to meet your friends at.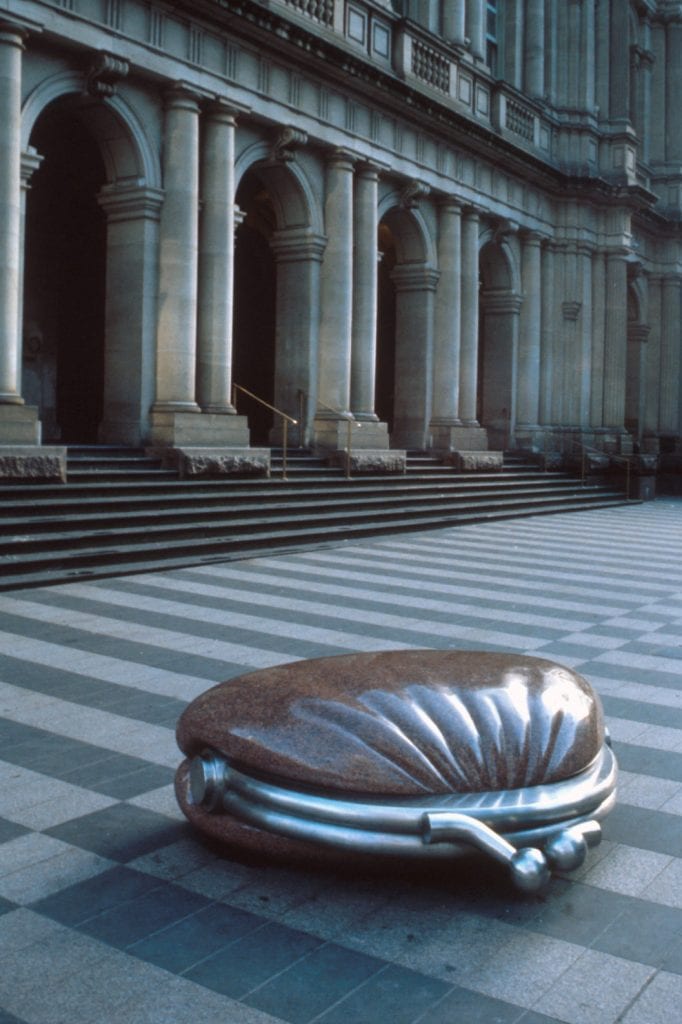 Three Businessmen Who Brought Their Lunch
If you're still near Bourke street after briefly resting your purse, take a gander down to where it meets Swanston street and you'll see Three Businessmen Who Brought Their Lunch. This incredibly average daily occurrence is immortalised in three whimsical statues of men holding briefcases, presumably with their lunch inside. Made in 1993 by Alison Weaver and Paul Quinn, this statue was gifted to the City of Melbourne by the Republic of Nauru for Melbourne's 150th birthday. They're supposed to represent the street's transformation into a pedestrian shopping area, as well as how humanity is trapped in the endless motion of consumerism. Mostly their open mouths seem to resemble those clown ball games at fairs, and many a passerby have taken advantage of the gaping hole for gifting the men the odd cigarette or two.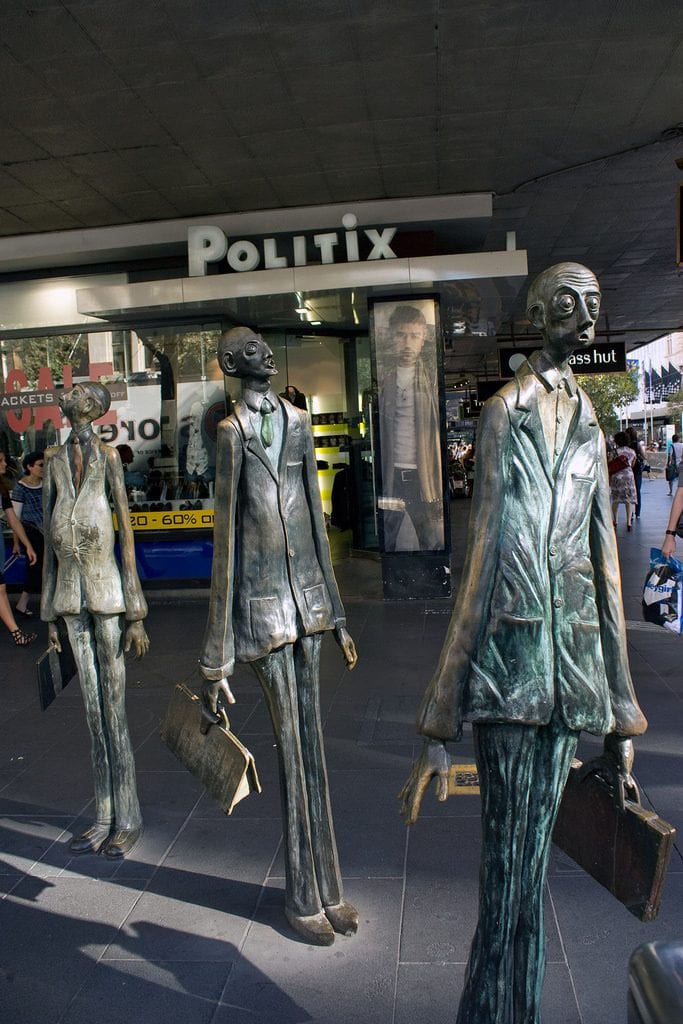 Architectural Fragment
Set into the stone outside the State Library on Swanston Street, this Port Fairy bluestone fragment is a beautiful piece of artwork. Architectural Fragment suggests an old library was buried here, consumed by the modern roads and buildings. Sculpted by Petrus Spronk in 1992, this pyramid emerges from the ground so naturally that it's worth seeing if you're an admirer of art. It was built to represent time and history, and the way the new replaces the old. Since the State Library of Victoria this piece is situated outside was opened in 1856 and has persisted to this day, this work of art may not fit the context of its immediate environment, but it is a satisfying piece of geometry.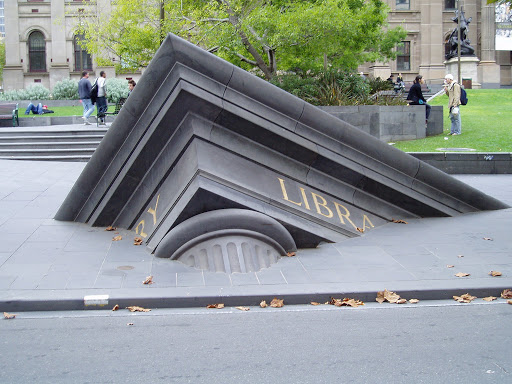 The Man with the Donkey
Near the Shrine of Remembrance in Melbourne, the simple yet beautiful sculpture of The Man with the Donkey honours the ANZAC stretcher-bearers who saved hundreds of lives at Gallipoli. The specific man depicted was a real person – Private John Simpson Kirkpatrick, who used a donkey to help him retrieve the wounded men from the battlefield. Simpson died at Gallipoli, but sculptor Wallace Anderson has immortalised him (and his donkey) in this piece. So next time you find yourself at the Shrine of Remembrance honouring fallen ANZACs, be sure to visit this little statue and thank this man and his donkey for all they gave to help their fellow ANZACs.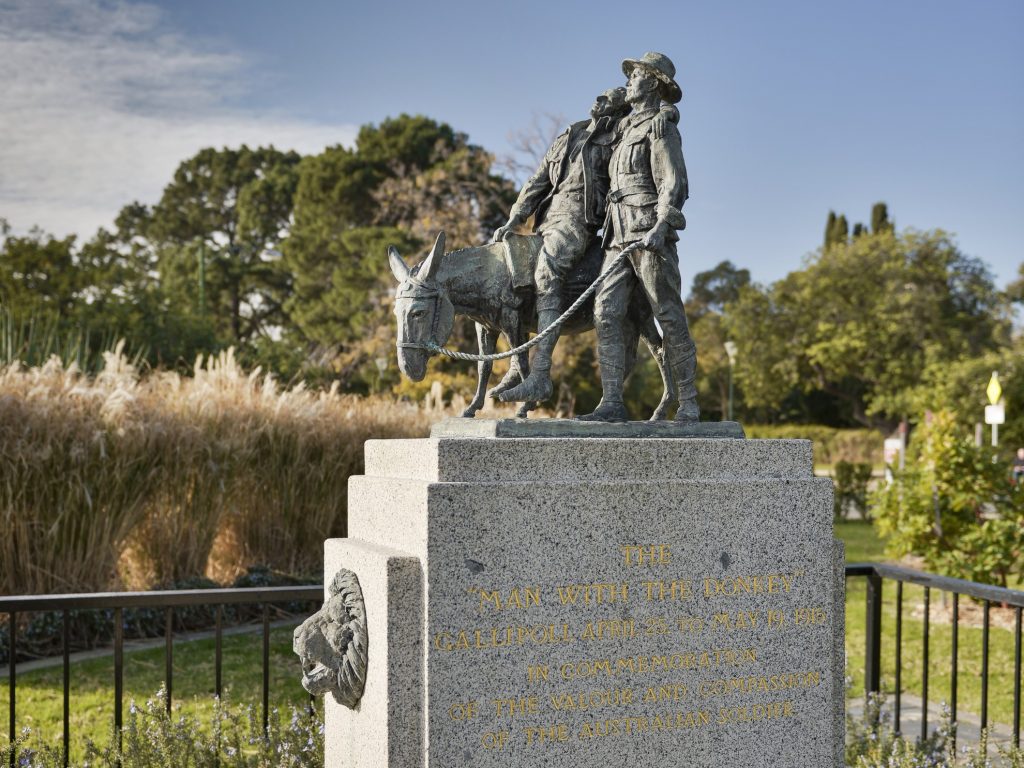 If you're on a walking tour with a mind to check out Melbourne's best sculptures, there are quite a few around the Swanston street and Bourke street areas. The Queen Victoria gardens also has a few hidden gems standing around, as do many of the other gardens in the area surrounding the CBD. Whether you follow this list or make your own, Melbourne is a hub of great artistry and you're sure to find something exciting on your adventure.